After years of soul-searching, I finally decided to pursue my dream of being a writer. With that decision came my graduate education. Although I enjoy and am trained in all types of writing styles and genres, the ones I mostly tap into are the nonfiction essay, autobiography and memoir, fiction, and screenwriting.
*As of 2016 and my editing of this page, I can finally say that I have achieved my Master of Arts degree in Writing! I am so grateful for the experience, and my fabulous teachers, for guiding me and unleashing the passion for writing and transformation I held deep within. What a journey!
My Portfolio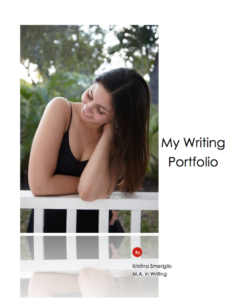 With my M.A. in Writing now completed, I have compiled select works from my collegiate career and crafted my latest writing portfolio. Download and read it here.
Prior to my acceptance into Nova Southeastern University's M.A. in Writing program, I was asked to compile a portfolio with a variety of works. You can view that one here.
•♦•

Featured Piece 

•♦•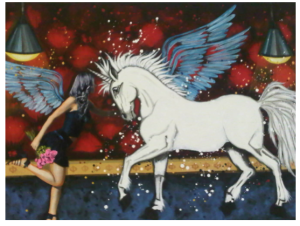 "One and the Same"
In life, there are always two sides to every story,
A yin and yang, an allegory.
A pure, yet tainted heart,
All displayed as a work of art.
Tall and long, with flowing dark hair,
A voluptuous body, do you dare?
An enticing seductress not afraid to be first,
This is the woman who will quench your thirst.
She's a lady of the night there is no doubt of that,
She is caught wearing black, ready for her attack.
She takes you on a journey the moment you look in her eyes,
Once she has you, there is no demise.
But when the night is over and the sun starts to rise,
What happens next, may come as a surprise.
Oh creature, my how she flies!
Galloping through the bright morning sky.
Her beautiful white mane flows with the wind,
Of which her wings thrive from within.
Her protruding horn with twists of delight,
A mesmerizing unicorn plain in sight.
A mystifying being with a kindly demeanor,
She's the sweetest thing whose ways bring you nearer.
She can do no wrong, cause any harm,
This might come as a great alarm.
Strong and bold, with a powerful stride,
You simply can't help but stay by her side.
She'll never let you down, by no means break your heart,
You may not know this right from the start.
Blacks and whites, nights and days,
Do you understand her complex ways?
A one of a kind, a rare special breed,
Not just simply a plain and tamed steed.
She the unicorn, what a wonderful mystery!
Your leading lady, here forever to make history.
---
*The above poem was written as part of a creative writing assignment I was assigned as an undergraduate student at Florida International University. The inspiration came from the painting above (title and artist unknown), a painting I saw one afternoon hung on the wall of a building in Brickell, FL.